Remember the Evolved Apes NFT debacle? You know, when people had fallen for an ape collection that involved a fighting game which eventually was never developed. The developer, appropriately called Evil Ape, disappeared with investor funds worth millions.
With the rising popularity of Cryptocurrencies and NFTs, scammers have discovered new grounds in a sector with little regulation and eager investors looking for the next big thing. Rug pull scams are a common way of duping such crypto investors.
So, what exactly is a rug pull in cryptocurrency? What happens when a crypto rug pulls? What are the signs of a crypto rug pull? What are some famous crypto rug pulls? This article will answer all these questions and more for you.
What is Rug Pull in Crypto?
A rug pull is a common cryptocurrency-related scam. Developers create hype for a project to raise funds for developing it. After raising a certain amount, they abruptly abandon the project taking off with the money and leaving investors in a lurch. It is like pulling the rug off someone's feet and taking them by surprise.
Similar to a literal rug pull, victims of a crypto rug pull scam are left scrambling to save whatever they can of their investment. Most rug pulls exploit the smart contract functionality on decentralized exchanges by writing suspicious codes for the project's programming.
Types of Crypto Rug Pulls?
There are various types of crypto rug pull schemes such as:
Dumping
This is basically a pump-and-dump scheme, where developers leverage social media and other marketing channels to create hype for a project. The price of the crypto asset is artificially inflated and efforts are made to attract investors with promises of high returns in a short time period.
Once the price of the cryptocurrency reaches a certain point, a large amount of the coin is dumped into the market increasing its supply and crashing its value. While the developers take off with the profit they earn by selling the cryptocurrency at an inflated price, the investors are left with essentially worthless holdings.
Liquidity Stealing
This is a common rug pull scam that exploits the loopholes in decentralized exchanges. Such platforms need a pool of crypto tokens for transactions like trading and lending. These are secured by smart contracts which are also used for self-executing various functions on the platform.
Developers with bad intentions can, however, build loopholes in the contracts that allow them backdoor access to the funds in the pool. In this way, they can easily steal the "liquidity" i.e. the tokens from the pool.
Limiting Sell Orders
In this case, project developers limit users' ability to sell cryptocurrencies on a crypto exchange. People can keep buying but there are restrictions on who can sell and what and how much they are allowed to sell. The developer can change this anytime.
They can disable selling for everyone except malicious accounts allowing them to dump crypto coins, earn profit, crash the value of the coins, and leave investors with worthless assets in their kitty.
Hard Pull vs. Soft Pull
Rug pull scams are also categorized as being either "hard" or "soft." A hard pull occurs suddenly and without any warning. On the other hand, scammers play the long con in the case of soft pulls. They build the image of an innovative and enduring project with great returns for investors and wait for the price of the asset to rise to a certain level.
Liquidity stealing and limiting sell orders where developers exploit smart contract functionalities or impose restrictions on crypto selling by users fall into the category of hard pulls.
In a hard pull, the scammer never had any intention to fully build a project and disappeared with the money at the first chance they got. This is an outright case of fraud while a soft pull may be unethical but cannot outright be termed illegal.
What is the Biggest Crypto Rug Pull?
OneCoin
This is perhaps the worst crypto rug pull. A cryptocurrency Ponzi scheme, OneCoin managed to raise $4 billion by promising investors high returns and pitching the project as a "Bitcoin killer." However, the coin was not actively traded and there was not even a blockchain.
OneCoin's founder Ruja Ignotova disappeared in 2017 after defrauding investors and is wanted in the US for fraud and conspiracy.
Thodex
Thodex was a Turkish cryptocurrency exchange and one of the largest crypto trading platforms in the country. In 2021, its founder, Faruk Fatih Ozer fled to Albania after defrauding Thodex users of $2.7 billion worth of funds. Before disappearing, Ozer had claimed that they had to cease trading because of cyberattacks.
In 2022, Ozer was arrested and extradited to Turkey where he is facing trial along with other people included in the indictment.
AnubisDAO
AnubisDAO is a textbook example of a liquidity-stealing scam. Its developers were anonymous and had no website or white paper. They only had a discord server and Twitter account but managed to raise $60 million in ETH in exchange for the platform's native ANKH token. 
Just 20 hours into the sale, the developers drained the AnubisDAO liquidity pool and sent the funds to a different address. The value of the ANKH token crashed to zero and the stolen funds were never recovered.
Squid Game(SQUID) Token
This token had nothing to do with the viral show Squid Game but it sure tried to capitalize on the show's fame. $SQUID was a massively hyped token and even raised $3.3 million in investor funds. Once funds had been raised, the token's developers drained its liquidity pools and disappeared with the funds.
The value of $SQUID nearly crashed to zero and it is now trading at a value more than 95% lower than its all-time high.
Mutant Ape Planet(MAP) NFTs
A knockoff of the Ape Yacht Club NFTs, the developer of the MAP collection Aurelian Michel defrauded investors of over $2.9 million in his rug pull scheme. The NFT project was pitched to buyers as something with additional benefits like rewards and exclusive access to other crypto assets.
There were even promises about acquiring metaverse land which obviously were never fulfilled. Michel was arrested in 2023 in New York.
5 ways to Spot a Crypto Rug Pull Scheme
Social Media Hype
Look, FOMO is a real thing, especially in the social media age. But FOMO is also something that scammers capitalize on to con unsuspecting people out of their money. Therefore, you should be skeptical if you suddenly start seeing a new crypto project being hyped everywhere. 
Heavy marketing is not necessarily a sign of a crypto rug pull but tall and unsustainable claims about a project most likely are going to be a scam.
Unknown Developers
If you're considering investing in a new crypto project and are wondering about its credibility, you should first research the people behind it. Are they known names in the crypto community? What projects have they previously worked on? Would they be able to deliver what they are promising?
An anonymous developer team that barely anyone knows about is almost always a red flag. While exceptions exist(Satoshi Nakamoto being one), it is better to be skeptical of anonymous developers than to lose money in a rug-pull scam.
Massive Price Swings
While cryptocurrencies themselves are volatile assets, large and sudden rises in the price of a new and obscure coin should always be viewed with caution. This, combined with social media hype, is mostly a sign of the "pump" phase of a scam to drive up the prices of a particular cryptocurrency.
Therefore, you should first analyze the price chart and stay away from any cryptocurrency that shows suspicious patterns in its price data.
No Liquidity Lock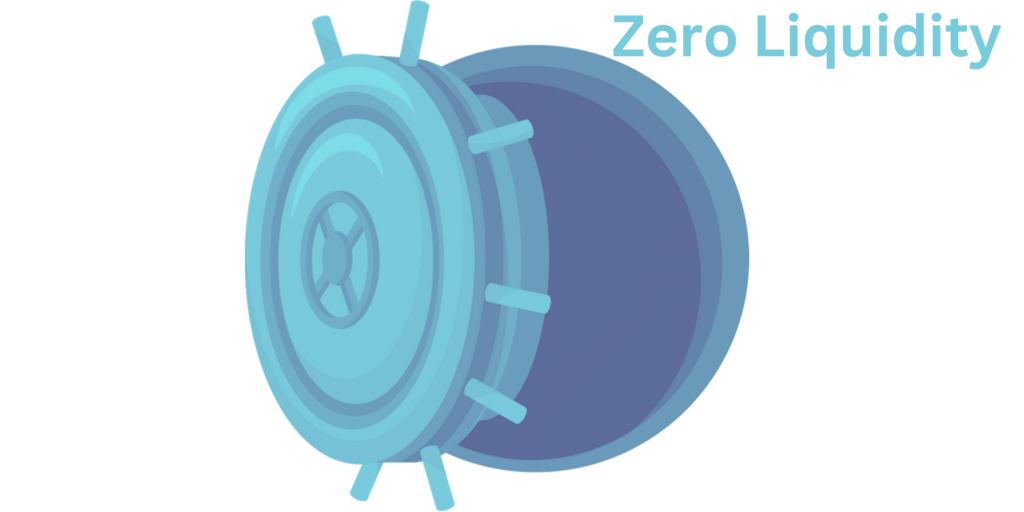 Before investing in a cryptocurrency, check whether it is liquidity-locked or not. If it is not, it is most probably a scam. This is because, in such a situation, nothing is stopping the developers from stealing the entire liquidity from the pool and just disappearing. Hence, it is better to stay away from coins with no liquidity lock.
Sell Order Limits
A legitimate team would not restrict the selling ability of the majority of the users. This is a massive red flag pointing towards an obvious scam. Such restrictions are often in the code itself and hence, users may not immediately realize that something is amiss.
What you can do here is buy a small amount of the token and then immediately try to sell it. If there are restrictions on the same, you can be sure that the project is a scam.
The Bottom Line
As the popularity of crypto trading grows, so do the types of schemes to part people from their money. Rug pull scams have increased exponentially over the years as more and more people look towards investing in the crypto sector.
While it is difficult to state outright whether an upcoming crypto project is a scam or not, there are certain signs you can look out for to spot suspicious schemes and steer clear of them.
Cryptocurrencies are a risky venture and there is little regulation in the sector. Hence, it is important to not immediately hop on the hype train and instead evaluate the project thoroughly to decide whether it is worth your money or not.