Remember the FTX saga? Yep, that Sam Bankman-Fried-led cryptocurrency exchange that spectacularly collapsed in late 2022. The FTX exchange was closely related to Alameda Research, a quantitative trading firm that was also run by Bankman-Fried. It was revealed that Alameda's investment foundation was completely in FTT tokens and not in any fiat currency or even any other cryptocurrency.
The role of FTT is crucial in this whole saga because it is the native token of the FTX exchange. Wait but isn't FTT a cryptocurrency What is an exchange token anyway? Well, exchange tokens are cryptocurrencies too but they are ones that are issued by individual cryptocurrency exchanges.
An exchange can launch its native token for various reasons but they are most commonly used for funding purposes and providing incentives to users. The point here is that, unlike other cryptocurrencies, exchange tokens are irrevocably linked to a particular exchange and their fate depends on the success and stability of said exchange.
Over the years, many prominent cryptocurrency exchanges have launched their utility tokens. If you want to know more about these exchange tokens, read on to learn more about exchange tokens, their purpose, and the top 10 exchange tokens.
What are Exchange Tokens?
Exchange tokens are cryptocurrencies or digital assets issued by cryptocurrency exchanges. These are often used for raising funds for the issuing exchange although secondary use cases may include discounted trading fees, voting rights, and access to exclusive products. Hence, exchange tokens are categorized as utility tokens i.e. digital tokens with specific use cases.
One thing to note here is that while all exchange tokens are cryptocurrencies all cryptocurrencies are not exchange tokens. For example, Bitcoin is a cryptocurrency but it is not an exchange token since it is not tied to any particular exchange or blockchain. Possession of BTC will not necessarily entitle you to any specific perks on a crypto exchange.
On the other hand, BNB is a token issued by the cryptocurrency exchange Binance. BNB holders can get a 25% reduction in trading fees if payments are made with the aforementioned token. Further, Binance cardholders also get 8% BNB cashback for eligible transactions.
However, note that the term exchange token is mostly used in the context of tokens issued by centralized cryptocurrency exchanges such as Binance or Crypto.com. While decentralized exchanges such as UniSwap and PancakeSwap also have their native utility tokens, they are separately categorized as DeFi or DEX tokens.
Why Exchange Tokens?
While many cryptocurrency exchanges have issued their native tokens and some of them are doing quite well, the questions that come up here are- why exchange tokens? What are exchange tokens used for? What benefits do they give to users and the exchange? Let us, therefore, look at some of the use cases of exchange tokens.
Raising Capital
Exchange tokens are issued with the primary purpose of funding. Such tokens are often distributed via Initial Exchange Offerings(IEOs) which are a specific type of Initial Coin Offering(ICO). Sometimes, exchange tokens are also given to users via airdrops- a method where tokens are directly sent to the community's crypto wallets either for free or in return for some promotional activity.
Liquidity
Cryptocurrency exchanges also issue native exchange tokens to encourage user activity and increase the level of liquidity on their platform. Higher liquidity helps the exchange reduce slippage and improve the trading experience. For this, traders are often encouraged to invest the token in the platform's staking program.
Reduction in Fees
The biggest benefit of exchange tokens for traders is the significant discount on trading fees they get for using the exchange token for the final payment. For example, Binance gives 25% off for using BNB for payments. Crypto.com also gives discounts depending on the level of Cronos(CRO) staked by the trader.
Voting Rights
There are exchange tokens that are designed to give the holders the right to vote on governance proposals for the exchange. Tokens issued by centralized exchanges rarely give governance rights to users but they are an important part of decentralized exchanges.
For instance, those who hold UniSwap's native token UNI get the right to participate in the network's governance. This is an important part of DeFi projects' transition to complete community governance.
Top 10 Crypto Exchange Tokens
There are several exchange tokens that have been quite successful since their launch. A lot of them have become popular tradable coins in their own right. Therefore, let us have a look at the top 10 crypto exchange tokens by comparing their market cap, contributions, customer reviews, and exchange potential.
BNB
Binance Coin or BNB is the native utility token of the cryptocurrency exchange Binance. It was launched in 2017 by Changpeng Zhao who is also the CEO of the platform. It is the largest exchange in the world based on daily trading volume.
BNB was initially created as an ERC-20 token but shifted to the Binance Chain in 2019. It is now the coin that essentially powers the BNB Chain ecosystem. Additionally, it is one of the most popular exchange tokens and as per CoinGecko, can be traded in more than 300 pairs across 120 exchanges.
If you want to acquire BNB, the easiest way is to buy it directly from Binance. The exchange provides several benefits if you use its token to pay for goods and services. This includes a 25% reduction in spot and margin trading fees and a 10% off on futures trading fees.
You can stake BNB to help secure the BNB Chain ecosystem and earn rewards via the BNB Vault. The token also has an Auto-Burn system where coins are permanently removed from circulation as a deflationary measure to reduce the supply of tokens to 100,000,000 BNB.
Blockchain: BNB Chain
Initial Price: $0.10
Market Cap: $51 billion(approx.)
Circulating Supply: 155 million BNB(approx.)
UNUS SED LEO(LEO)
LEO is the utility token "at the heart of the iFinex ecosystem." It is mainly used on the cryptocurrency exchange Bitfinex to reduce various types of fees charged on the platform. This token was launched in 2019 after the US government seized funds held by Bitfinex's former payments processor Crypto Capital.
LEO was, therefore, launched to cover the financial loss. Due to this, a unique aspect of LEO is that it has a limited lifespan i.e. it is not meant to be in circulation forever. iFinex has a token-burn mechanism where it uses 27% of the revenue generated to buy back the UNUS SED LEO token on a monthly basis.
LEO is a dual-chain token i.e. it was issued on two blockchains namely, Ethereum and EOS. This token can be used to get a withdrawal and deposit fee discount of up to 25% and a reduction in the derivative taker fee as well on Bitfinex.
Founder: Raphael Nicolle, Giancarlo Devasini
Blockchain: Ethereum, EOS
Initial Price: 1 USDT
Market Cap: $3 billion(approx.)
Circulating Supply: 930 million LEO(approx.)
OKB
OKB is the utility token of the Seychelles-based cryptocurrency exchange OKX. This exchange was launched by a Chinese entrepreneur Star Xu. Jay Hao is the CEO of the exchange. Along with the token, OKX also has a native blockchain called OKX Chain.
OKB is, therefore, the utility token of this entire OKX ecosystem. Users who hold this token get several benefits including substantial discounts and exclusive access. Depending on the number of tokens a user has, they can get as much as a 40% discount on trading fees.
Further, OKB can be used to earn passive income with the OKX Earn program. Plus, you can only participate in OKX Jumpstart if you hold a certain amount of OKB.
OKB has a total supply of 300 million tokens and the exchange buys back tokens every 3 months according to the seasonal market and operating performance to add value to the token.
Founder: Star Xu
Blockchain: OKX Chain
Initial Price: $1.6
Market Cap: $2 billion(approx.)
Circulating Supply: 60 million OKB
Cronos(CRO)
CRO is the exchange token of the Crypto.com platform. Crypto.com was founded in 2016 by Kris Marszalek, Bobby Bao, Gary Or, and Rafael Melo. This exchange focuses largely on mobile app-based trading and with 70 million customers across 90 countries, it is one of the fastest-growing crypto apps in the world.
Crypto.com has developed a whole crypto ecosystem that includes an exchange, a DeFi wallet, a Visa-backed card, staking options, and credit services. CRO is, therefore, an integral part of this ecosystem. Depending on the CRO lockup amount, you can get up to a 30% discount on spot and margin trade fees and an exemption from paying maker fees.
Further, you can get up to 20% cashback by using CRO for merchant payments with Crypto.com Pay. Users can also earn annual interest by staking CRO and acting as validators. The maximum supply of CRO is fixed at approximately 30 billion CRO tokens.
Founder: Kris Marszalek, Bobby Bao, Rafael Melo, Gary Or
Blockchain: Ethereum, Ethereum Virtual Machine-compatible chains
Initial Price: $0.07
Market Cap: $1.7 billion(approx.)
Circulating Supply: 25 billion CRO(approx.)
KuCoin Token(KCS)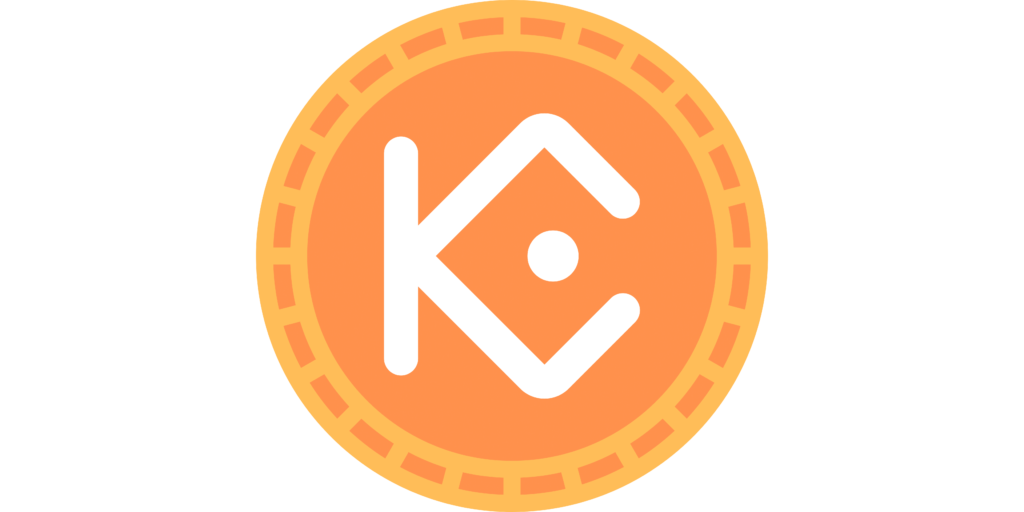 KuCoin Token(KCS) is the ERC-20 utility token of the KuCoin exchange. It was introduced in 2017 as a profit-sharing token so that traders could get the maximum value from the exchange. Described as the "people's exchange", the work for KuCoin started in 2013 and now it has one of the largest cryptocurrency collections out there.
The biggest benefit that KCS holders receive is a significant reduction in trading fees. You can get up to 20% discount on the maker and taker fees if you hold KCS. Further, KuCoin has a unique bonus system where traders holding at least 6 KCS become eligible for a daily reward of 50% of the exchange's daily trading fee revenue.
You also get early access to primary token sales of various blockchain projects on KuCoin Spotlight if you hold the KCS token. The supply of KCS was initially capped at 200 million but there are plans to stabilize it at 100 million KCS via burning and buyback mechanisms.
Founder: Michael Gan, Eric Don
Blockchain: Ethereum
Initial Price: $4
Market Cap: $750 million(approx.)
Circulating Supply: 97 million KCS(approx.)
Huobi Token(HT)
HT is the native token of Huobi a cryptocurrency exchange initially based in China. After China's cryptocurrency ban, Huobi stopped its crypto services in the country and shifted its headquarters to Seychelles. Huobi Global now hosts 700 assets for spot trading including its token HT.
HT has several use cases in the larger Huobi ecosystem. With HT, you can get VIP status on Huobi which entitles you to discounts on the trading fees being paid. HT holders also get invitations rebates and occasional wallet bonuses. This token can also be traded with several popular assets available on Huobi.
HT holders also get voting rights and, therefore, get to make decisions for the exchange and the wider Huobi ecosystem. The token has a circulating supply of 200 million HT and a maximum supply of 500 million HT. Huobi uses 20% of its revenue for regular buyback and burning of HT.
Blockchain: Ethereum
Initial Price: $1.30
Market Cap: $532 million(approx.)
Circulating Supply: 162 million HT(approx.)
Gate Token(GT)
GT belongs to the GateChain ecosystem. It is primarily used on the Gate.io exchange. Nearly a decade old, Gate.io provides its services in over 200 countries to more than 12 million users. Its industry-leading security and 1400+ listed cryptocurrencies are a major draw for customers. It supports spot, futures, leveraged, and copy trading and also facilitates P2P trades.
Launched in 2019, GT is a relatively newer exchange token. It is essential to GateChain's functions as it is used as a reward for staking and is used to pay the transaction fees on the network. Possession of GT also makes you eligible for Gate.io's VIP program which gives you early access to new token listing among other benefits.
Founder: Lin Han
Blockchain: GateChain
Initial Price: $0.4
Market Cap: $505 million(approx.)
Circulating Supply: 97 million GT(approx.)
WOO Network(WOO)
WOO Network is a bunch of centralized finance(WOO X) and decentralized finance(WOOFi and WOOtrade) services to provide liquidity for cryptocurrency market participants. The utility token WOO is an essential part of the whole network.
On WOO X, trading fees can be reduced by staking WOO token. It can also be used to reduce API trading rate limits and increase referral rebates. You can use WOO as collateral for borrowing other cryptocurrencies or put it to use in a yield farm to provide liquidity.
WOO Network has a monthly buyback and burn program where every month, the network uses 50% of its revenue to buy back tokens from the market and burn them as a deflationary measure.
Founder: Jack Tan, Mark Pimentel
Blockchain: Ethereum, Polygon, Solana
Initial Price: $0.8
Market Cap: $430 million(approx.)
Circulating Supply: 1.6 billion WOO(approx.)
LINK
Chainlink was founded in 2017 and was one of the first networks that allowed the integration of off-chain data into smart contracts. It uses oracles to connect smart contracts to real-world data and events. This helps in increasing the functionality of blockchains.
LINK is the utility token used on this platform for paying network operators and as collateral for its smart contracts. The token has a maximum supply of 1 billion tokens and a circulating supply of approximately 517 million LINK tokens.
Blockchain: Ethereum
Initial Price: $0.5
Market Cap: $3 billion(approx.)
Circulating Supply: 517 million LINK(approx.)
MX Token
MX Token is the native utility token of the MEXC Global exchange. This exchange serves around 5 million users in over 70 countries. MEXC is increasingly becoming popular among cryptocurrency traders due to its 0% spot maker and taker fees policy and multi-platform app support.
At the heart of its operations is its utility token MX. MX token holders get a part of the exchange's merchandising fees as a bonus and the rest is used for the monthly buyback and burn process. You also get benefits like access to new token airdrops if you possess MX. MX holders also get the right to vote on the functionality of the platform.
Blockchain: Ethereum
Initial Price: $0.1
Market Cap: $231 million(approx.)
Circulating Supply: 100 million MX