Did you know that you can make donations in cryptocurrency? Yes, really. It is actually a thing. One of the most prominent examples of cryptocurrency donations is Ukraine. Donations started pouring in when the country was invaded by Russia in 2022. As per several estimates, Ukraine had received nearly $70 million in crypto donations till February 2023.
Donating cryptocurrency to Ukrainian government addresses helped to provide support for people displaced due to the violence. Recognizing the potential of cryptocurrency, many organizations such as Save the Children USA, the Internet Archive, and even Khan Academy have started accepting donations made via digital assets.
By now, you must have several questions running in your mind. How do crypto donations work? How do I create a crypto donation? What charities accept cryptocurrency? But you don't need to worry. In this article, we provide the answer to all these questions and also discuss the pros and cons of cryptocurrency donations.
Can I Donate Cryptocurrency?
Absolutely! Many big charitable organizations such as the Red Cross accept cryptocurrency. With cryptocurrency, you can donate money from anywhere in the world to an organization that accepts crypto donations, and that too, without incurring large transaction costs.
You can make anonymous donations with cryptocurrency and get transparent information about incoming and outgoing funds since crypto transactions are recorded on a distributed ledger that anyone can view.
Plus, cryptocurrency donations in the USA are exempt from capital gains tax and are also tax-deductible. Therefore, this is a win-win situation for everyone as neither the donor nor the receiver has to pay any sort of capital gains tax on such transactions.
Why Donate Crypto Instead of Cash?
Now, you might be wondering what difference it makes whether anyone donates in crypto or cash. What are the benefits of crypto donations? Why even donate crypto instead of cash? Well, donating cryptocurrency has several advantages such as:
Tax Benefits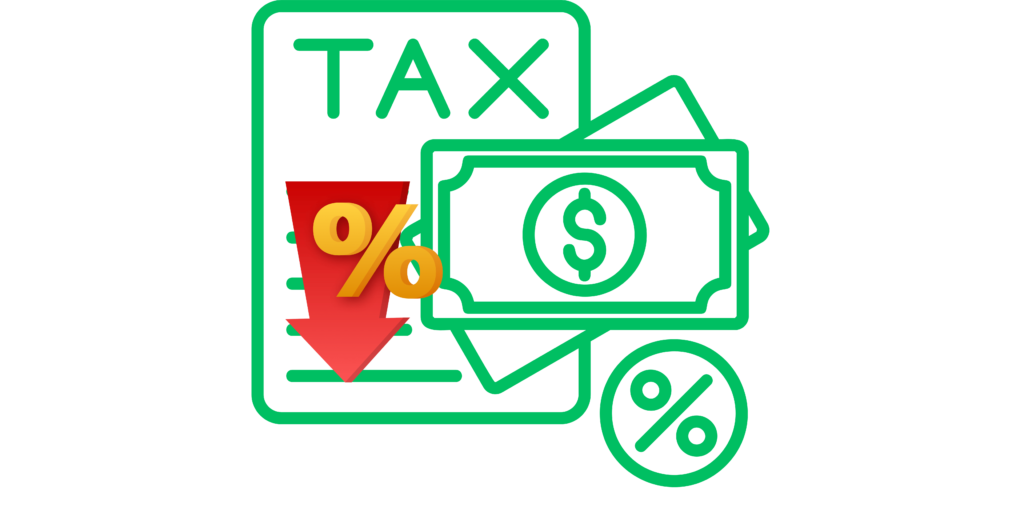 In countries like the USA, crypto donations can be beneficial for the donor from the taxation perspective. The IRS classifies cryptocurrencies such as Bitcoin as property for tax purposes. Therefore, you do not have to pay capital gains tax on donations to 501(c)(3) nonprofit organizations. Such crypto donations are also tax-deductible which motivates more people to donate to the project.
Broadening Funding Sources
Accepting crypto donations helps charities and non-profit organizations attract a new and wider demographic of donors who are tech-savvy and prefer making donations online. This can help to increase the overall funding revenue of charities as well.
Lower Transaction Costs
Reports suggest that most people these days prefer donating online. However, debit and credit cards and bank transfers can have high processing fees which reduces the actual amount that the charity receives. In comparison, transaction fees for Bitcoin and most other cryptocurrencies are relatively lower which ensures that more money goes towards fulfilling the organization's mission.
Fast Transactions
Cross-border transactions via conventional financial routes can sometimes take days. In contrast, crypto transactions barely take a few minutes to transfer money. Thus, anyone can quickly transfer funds for any cause from anywhere in the world with cryptocurrency.
Privacy and Anonymity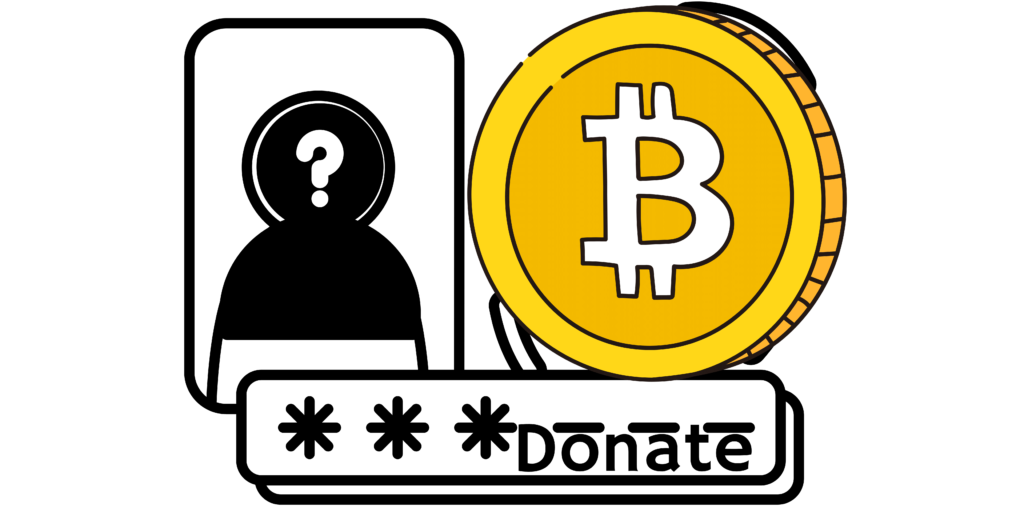 Some people hesitate to donate to charities due to apprehensions about their identity and personal information being revealed. Crypto transactions, in general, have greater privacy as compared to traditional methods and therefore, you can easily make anonymous donations with cryptocurrency.
Less Volatility with Stablecoins
Cryptocurrencies are known to be volatile. However, this problem is solved to a large extent by stablecoins such as USDC and USDT. These are pegged to the US Dollar and USDC is also redeemable for the US Dollar. Therefore, charities get to have the benefit of crypto donations without the underlying risk of volatility.
How to Donate Cryptocurrency
Donating cryptocurrency is largely the process of transferring the crypto from your wallet to the beneficiary's wallet. Therefore, it is pretty much like a normal crypto transaction. Hence, you need to first get some cryptocurrency if you want to donate it.
You can buy any cryptocurrency you wish to donate either from a centralized exchange like Coinbase or Binance or a decentralized one like UniSwap. Most people prefer Bitcoin for donations since it is the cryptocurrency with the largest market capitalization.
After acquiring cryptocurrency, you just have to send it to the charity of your choice. To avoid scams, it is always better to donate to established and IRS-qualified 501(c)(3) charities.
Most charities, however, do not have their own digital wallets and instead use third-party processors or solutions such as Crypto for Charity and the Giving Block to accept crypto donations. These third-party processors may charge a small transaction fee and then convert the donated crypto into cash on behalf of the charity.
Alternatively, you can also use a donor-advised fund that will convert your cryptocurrency into cash and invest it. You can then direct that grant to eligible charities and claim a tax deduction on the same. However, note that any charitable contribution to a donor-advised fund would be irrevocable.
Non-profits that Accept Cryptocurrency
Many big charities and non-profits nowadays have hopped on the crypto train. There are solutions like the Giving Block that enable non-profits to accept crypto donations. Some big cryptocurrency exchanges such as Binance have their own charity arms. Some organizations that accept cryptocurrency donations are:
Daffy
Daffy makes it easy to donate to the charity of your choice. It supports more than 1.5 million organizations in various domains such as education, environment, food security, and human rights. You can download Daffy's mobile app and donate to any supported non-profit organization. Along with operating donor-advised funds, Daffy also gives you the option of making one-time or recurring donations.
Internet Archive
The Internet Archive is a non-profit committed to providing Universal Access to All Knowledge. For this, it is building a digital library of websites and other artifacts such as books, images, and audio recordings in a digital form. It provides free access to resources and accepts Bitcoin, Ethereum, Filecoin, XRP, and ZCash for donations.
Khan Academy
Yup, everyone's life-saver in high school Khan Academy also accepts crypto donations. Khan Academy's mission is to provide free and world-class education to anyone anywhere in the world. It enables learners to study at their own pace both inside and outside the classroom. Khan Academy offers resources in math, science, computing, history, economics, and preparation content for tests like the SAT and LSAT.
Red Cross
The American Red Cross is the US affiliate of the International Red Cross and Red Crescent movement. Its mission is to prevent and relieve suffering. The Red Cross helps in disaster relief, encourages blood donation, and offers health and safety courses for both individuals and companies. It accepts Bitcoin for donations via Bitpay.
Electronic Freedom Foundation
Founded in 1990, the Electronic Freedom Foundation(EFF) is a leading non-profit organization defending digital privacy, innovation and free speech. It champions civil liberties in the digital world through impact litigation, grassroots activism, and technology development.
Freedom of the Press Foundation
Freedom of the Press Foundation(FPF) is dedicated to protecting, defending, and empowering public interest journalism in the 21st century. It develops encryption tools, documents attacks on the press, advocates for the public's right to know, and trains newsrooms on digital security practices. 
FPF runs the US Press Freedom Tracker to monitor press freedom violations in the US. It has also helped in the development of projects like SecureDrop to protect journalists and promote transparency.
Rainforest Foundation
It empowers the indigenous people of Latin America to fight against deforestation and human rights violations. The Rainforest Foundation assists them in securing and controlling natural resources and managing these resources in a manner that does not harm the environment or violate their culture. It also helps them in developing the means to secure their individual and collective rights and to obtain and control basic services from the state.
Risks of Crypto Donations
The world of crypto donations is not completely rosy. It comes with its own sets of security and ethical risks. Some major concerns about the rise of crypto donations are:
Price Volatility
Cryptocurrencies are known to be highly volatile and speculative assets. Their prices can significantly go up or down in a matter of minutes. Therefore, it may not be a good idea to make donations via cryptocurrency if you want to transfer the value you hold today.
Scams and Unverified Campaigns
The increasing awareness about cryptocurrency donations has also led to an increase in crypto scams. One example of this is the Turkey-Syria earthquake in 2023 whose aftermath saw a proliferation of unverified crypto wallet QR codes seeking donations for the earthquake victims. 
The very nature of cryptocurrencies makes it pretty much impossible to recover money lost to such scams.
Frauds and Accounting Issues
Although blockchain technology is said to bring greater transparency to philanthropic donations, various instances have shown that its scope in the sphere may be limited.
It is alleged, for example, that the UkraineDAO organization was paying its leader a salary of $5,000 per month instead of sending all the money to the intended recipients.
Conclusion
More and more charitable organizations are turning towards cryptocurrency donations to increase their revenue and widen their donor base. Faster settlement speeds, greater transparency, and the absence of intermediaries are major factors pushing the rise of crypto donations. 
At the same time, the growing acceptance of crypto donations has also led to a new wave of crypto scams asking for donations to philanthropic causes. The price volatility and environmental impact of cryptocurrency transactions are also major concerns.
Therefore, it is important to properly research the charity you're planning to donate to. Further, you should always consult a professional for proper advice and then decide whether cryptocurrency is the right medium or not for the cause you're planning to support.