Even though they share a name, Tron(TRX) has nothing in common with the Disney franchise except for groundbreaking innovations in the entertainment field. While the film franchise is known for its visual effects and use of early CGI, the blockchain-based Tron platform aims to be a decentralized entertainment and content-sharing platform.
Tron is an open-source, decentralized peer-to-peer network based on blockchain technology. Its basic structure is similar to Ethereum with its use of smart contracts, decentralized apps(dApps), and tokens. In fact, Tron's TRC-20 token standard for smart contracts is based on and is fully compatible with Ethereum's ERC-20.
Tron works with the motto "Decentralize the Internet." it uses its peer-to-peer network to eliminate middlemen and give content creators control over the ownership and distribution of their content. Users can use the platform Tronix(or TRX) token to pay content creators for accessing their products.
As of December 2022, Tron has more than 129 million accounts and 4.4 billion transactions.
A Brief History
Tron was founded by Chinese entrepreneur Justin Sun in 2017. The Tron Foundation, a non-profit, was established in Singapore the same year to oversee and supervise Tron.
In the words of founder Justin Sun, Tron Foundation is "dedicated to building the infrastructure for a truly decentralized Internet."
The Tron Foundation managed to raise $70 million in July 2017 through its Initial Coin Offering(ICO); just before China banned cryptocurrency exchanges and ICOs. The Testnet of the project was launched in March 2018 followed by the Mainnet two months later.
Initially launched as an ERC-20 token created on top of Ethereum, Tron switched to an independent peer-to-peer network in June 2018. It acquired the file-sharing platform BitTorrent in July 2018 and launched its cryptocurrency token BTT in early 2019.
As of December 2022, Tron has a market cap of approximately $5 billion.
How Does Tron Work?
Tron's basic structure- Tron Virtual Machine(TVM), smart contracts, and proof-of-stake(PoS) consensus are similar to Ethereum. The Tron Virtual Machine is a Turing-complete programming language and uses the Solidity programming language to build dApps.
TVM is compatible with the Ethereum Virtual Machine(EVM) and compatibility with other virtual machines might be available in the future. Block Storage and State Storage are the two types of storage protocols created by Tron.
The Three Layers
Tron functions use three layers to exchange data. These are:
1. Core Layer- This layer validates transactions, manages accounts, and reads smart contracts. The code is written in Java or Solidarity and sent to the Tron Virtual Machine.
2. Application Layer- As the name suggests, this layer is used by developers to build wallets and dApps using TRX.
3. Storage Layer- The storage layer stores complex data records namely, blockchain data which is the blockchain's historical record, and state data which preserves the smart contracts.
Delegated Proof-of-Stake
For validating transactions, Tron neither uses proof-of-work nor a complete proof-of-work protocol. Instead, it relies on a modified version of the proof-of-work mechanism called delegated proof-of-stake(PoS) to validate transactions.
In delegated PoS, users stake their TRX to get the right to vote for "Super Representatives." These super representatives get to validate transactions and maintain system history. Anyone who wishes to become a Super Representative candidate needs to have 9,999 TRX.
The top 27 most-voted candidates get to be Super Representatives and are chosen every six hours. In addition, Tron has another category called Super Partners. While the top 27 candidates become Super Representatives, those ranked 28th to 127th get to be Super Partners.
There are two types of rewards- block rewards and vote rewards for verifying transactions. Blocks are added every 3 seconds and successfully producing a valid block gets the user 32 TRX for his efforts.
The main difference between the two is that while Super Representatives can produce and validate records and get block rewards and vote reward for it; Super Partners only get vote rewards without doing the above tasks.
Staying true to its decentralized model, all Super Representatives, Super Partners as well as Super Representative candidates have the right to raise proposals to modify Tron Network's parameters.
The Process of Staking TRX
It is the 27 chosen Super Representatives who get to stake TRX on the Tron Network. To cast their vote, users need to get Tron Power by locking their TRX in an account(1 Tron Power= 1 TRX). The rest of the process is largely similar to staking on other platforms using PoS consensus though there are still some differences.
Tron has something called "bandwidth points" to ensure the smooth operation of the network. These bandwidth points are used to determine whether a user needs to pay a transaction fee or not.
5,000 free bandwidth points are given to each user every day. The number of bandwidth points consumed in a transaction is equal to the transaction's byte array size. Every transaction on the Tron network uses about 200 bytes which means that users can make 25 free transactions each day.
If a user does not have enough bandwidth for a transaction, 0.1 TRX is burned for every data byte consumed.
Uses of Tron
Now, the question that arises here is, why Tron? When there is a multitude of other blockchain platforms and cryptocurrencies, why should I use Tron? Read ahead to find some compelling reasons.
1. Using Tron-compatible services
Tron is home to a number of dApps and decentralized games and services. Since the Tron ecosystem functions with TRX, you need to purchase TRX to use any Tron-based app or service.
2. Voting Rights
You need to have TRX if you intend to either vote for Super Representatives to decide Tron's protocols or want to be a Super Representative candidate. Higher the TRX you own, the higher your voting power.
3. Investment Purpose
You might want to get TRX in your investment portfolio if you find the currency's future prospects and are interested in the platform's innovations and launches in the media and entertainment sphere.
4. Passive Income
If you have the capability and resources, you can generate some passive income by staking TRX.
How is Tron Unique?
Among various blockchain technology platforms, Tron stands out because it offers content creators full control over the content they create. Unlike many of its peers, Tron is primarily an entertainment and content-sharing platform.
Its goal is to help creators move away from dependence on centralized platforms like Google Play and Amazon; therefore, getting rid of the need of paying charges to them.
In addition to that, TRX transactions have a very low, almost nominal fee as compared to other networks. Plus, block producers or super representatives are elected by voting in Tron Network. Any account can get voting rights by staking TRX. This makes Tron a rather democratic platform.
Understanding Tron Token
The Tron platform uses the Tronix(TRX) token for settling transactions. However, it should be remembered that Tron is majorly a platform hosting smart contracts and decentralized apps(dApps). It is similar to Ethereum in this way that both their native coins are meant more for facilitating transactions on their own network.
Tronix(TRX)
Initially an ERC-20 token, Tron switched to its TRC-20 standard in 2018. TRX was valued at $0.002 after its launch. In late 2022, it is in the range of $0.05. TRX is further divisible into smaller units called SUN, named after its founder Justin Sun. One TRX is equal to 1,000,000 SUN. It is the main medium of exchange in the TRON ecosystem and all other tokens like BitTorrent(BTT), USD Coin(USDC) and Tether(USDT) derive their value from TRX.
There were 100 billion TRX created at the time of Tron's ICO in 2017 but unlike currencies like Bitcoin, this number is not fixed. Tron has indicated that the supply of TRX could be increased in the future if the need arises. The circulating supply of TRX is estimated to be around 92 billion TRX.
BitTorrent(BTT)
After the file-sharing platform BitTorrent was acquired by the Tron Foundation in 2018, it launched some new ventures like the crypto token BTT in January 2019. It was created as a TRC-10 token incentivizing users to pay BTT in exchange for faster download speeds.
After BitTorrent Chain, BitTorrent's native blockchain was launched in December 2021, the old BTT tokens were designated as BTTOLD. Users could exchange these old tokens on Tron for new BTT tokens on the BitTorrent Chain. As a result, the supply of BTT increased from 990 billion to 990 trillion.
How can I buy Tron?
Tronix(TRX) is not as widely available as other altcoins. Before signing up for any exchange, you need to check whether it offers TRX or not. The detailed process is as follows:
1. Finding an Exchange
The first step is to find exchanges, whether centralized or decentralized, where TRX is available. Coinmarketcap is an excellent tool for this. Select an exchange based on your goals, security features, and payment options offered.
2. Creating an Account
Next, you need to sign up for the exchange. You can either go to the exchange's website or download its app. While many decentralized exchanges don't require any form of identity verification, do note that most leading cryptocurrency exchanges are KYC-compliant.
3. Transferring Funds
You need to transfer funds into your account before you can start trading. You can either use bank transfers or debit or credit cards for making payments depending on your location and the exchange's policies. Remember that there might be a higher transaction fee on certain payment options.
4. Placing an Order
Now just place an order on the website or app for the amount of TRX you want to buy. Once confirmed, it will show up in your account.
5. Storing TRX
Cryptocurrencies, including TRX, are stored in something called wallets. Wallets are generally of two types- hot and cold. Hot wallets are connected to the internet and therefore, are also known as software wallets. The integrated wallets offered by many exchanges are also an example of hot wallets.
While hot wallets are convenient, they are also prone to hacking. Cold wallets, on the other hand, are safer because they are not connected to the internet. Hence, they are also known as offline or hardware wallets.
Tron and its Numerous Controversies
Tron and its founder Justin Sun have been embroiled in various controversies over the years, particularly those relating to plagiarism.
The White Paper Scandal
In early January 2018, Joystream founder Bedeho Mender alleged in a tweet that Tron's white paper had content copied from the white papers of FileCoin and IPFS without any reference to them.
Post Mender's tweet, FileCoin founder Juan Benet conducted his own investigation. It revealed that nearly nine pages of Tron's white paper were plagiarised from white papers of other currencies and had no references.
Justin Sun responded to the controversy by stating that their original white paper was in Chinese while translations in other languages including English were done by volunteers. He accepted that the translations missed several important details but refuted the allegation that the white paper was copied.
Did Tron Copy from Ethereum?
Barely had the dust settled on Tron's white paper scandal, it got embroiled in yet another plagiarism accusation over their Java implementation. On January 14, 2018, Bedeho Mender again tweeted alleging that Tron had copied Ethereumj's code without any citation. Ethereumj is cryptocurrency Ethereum's Java implementation.
In response, the Tron Foundation said that while Tron is "Based on its own system and realization of codes", it had used some outside sources as reference. The Foundation took note of Ethereumj's open-source license and promised to fix the problem.
Justin Sun and China's Crypto Ban
In July 2017, Tron issued its Initial Coin Offering(ICO) and managed to raise $70 million. Interestingly, TRX's token sale finished just before the day China's crypto ban was announced. There are sources who claim that Sun was tipped off about the impending ban by the founder-CEO of Binance, Changpeng Zhao. It is alleged that this is the reason why Sun left China for the USA during that time.
There have also been accusations of insider trading and market manipulation and faking KYC for Poloniex but nothing till now has been proven in concrete terms.
In December 2021, Justin Sun retired as CEO of Tron and became the Permanent Representative of Grenada to the World Trade Organization(WTO).
Should I invest in Tron?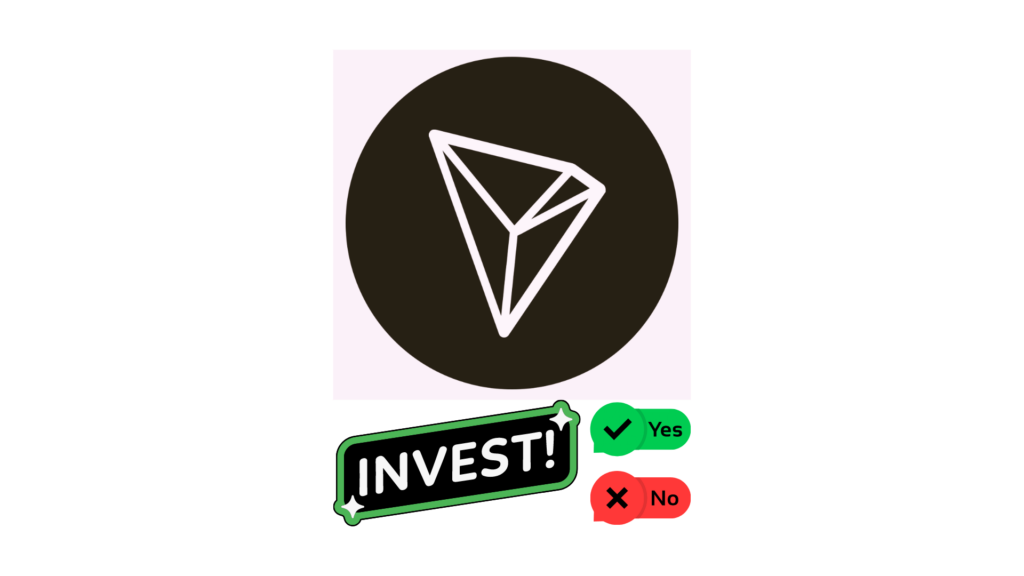 Before investing in any cryptocurrency, you need to assess your goals, financial position, and ability to tolerate risk. Remember that if crypto investments can bring windfall profits, they can result in total loss too.
It is also a good idea to do research on the crypto of your interest, its parent company, and the larger trends in the crypto market. It is also advised to find out your selected network's long-term vision and whether it is compatible with your financial goals.
Cryptocurrencies and Initial Coin Offerings(ICOs) are risky investments with massive price volatility. It is advisable to do proper research and consult a qualified professional before taking any decision.
Is Tron the next Bitcoin?
A burning question in the crypto world often is- 'Is this coin going to be the next Bitcoin?' which often implies whether a particular altcoin would become the next big cryptocurrency.
Bitcoin has been the leading cryptocurrency since its release in 2009. Of course, it has the first-mover advantage because, well, it was the first cryptocurrency to be invented. Though many altcoins have been launched since then, none come close to Bitcoin or even Ethereum's popularity.
In contrast, Tron is a relatively young entrant in the crypto field. It generated quite a lot of hype when it was first announced and managed to raise $70 million in its first ICO.
Tron was initially an ERC-20 token and traded at $0.002 when it was initially launched. As per Coindesk, TRX's price hovered between $0.01 and $0.04 for most of 2018 and 2019 after hitting a high of $0.22 in January 2018. In December 2022, it was trading at an average price of $0.05.
At this point, Tron is nowhere near the popularity or value of Bitcoin or even Ethereum. However, considering the unpredictable ways the crypto market moves and its extreme price volatility, Tron's value could rise in the future. But at the same time, it could face massive losses too.
We cannot say anything with certainty about the future of Tron. All we can do is keep an eye on the general condition of Tron and the projects it launches to make an informed call.
Conclusion
Tron is an interesting project in the sense that it seeks to disrupt the entertainment world unlike many of its peers which largely stay in the finance field. Its slogan of "decentralizing the internet" could become the mantra for creating an equitable Web3 ecosystem.
However, Tron and its founder Justin Sun's numerous controversies have watered down the hype built during Tron's launch. For instance, Sun's latest move of initially withdrawing funds and later depositing 100 million USDC into Binance has also raised eyebrows.
All cryptocurrencies have been facing rough waters during a prolonged crypto winter. It is tough to say authoritatively whether cryptocurrencies, including Tron, would be moving in a positive or negative direction in the near future.
The prudent thing right now would be to wait and watch. Keep up with the latest cryptocurrency news, and evaluate Tron's vision, prospects, risk profile, and risk-return payoff before taking any investment decision.