Cryptocurrency exchanges have become ubiquitous if you want to get into cryptocurrency trading. There are a plethora of options available both for centralized and decentralized exchanges.
Centralized exchanges work in a similar manner as stock exchanges to match buyers and sellers. Decentralized exchanges use a peer-to-peer network to connect cryptocurrency buyers and sellers who trade without any third-party intermediaries.
PancakeSwap is one such decentralized exchange. It is a platform built on the BNB Smart Chain and is used to swap BEP-20 tokens. You can start trading on PancakeSwap by just connecting a Web3 wallet. But exactly how do you do that? Well, read on to find out.
What is PancakeSwap?
PancakeSwap is a decentralized cryptocurrency exchange launched in 2020. Specifically, it is a Decentralized Finance(DeFi) that utilizes the Automated Market Maker(AMM) model for enabling trades. While most DeFi apps are built on Ethereum, PancakeSwap was created on cryptocurrency exchange Binance's native BNB Chain.
Developed by a group of anonymous developers, it is now one of the most popular DeFi platforms with an estimated 1.5 million monthly users. It has a native token called CAKE which can be used for transactions on the exchange.
Why Use PancakeSwap?
PancakeSwap has risen the ranks to become one of the top decentralized exchanges in just a few years. This is in large part due to the multitude of products and services that it offers to its users.
Let us have a look at some features that make PancakeSwap an attractive option to crypto traders.
Token Swaps
You can swap any BEP-20 token easily on PancakeSwap via its automated liquidity pools. Although limited in number, ERC-20 tokens are also available on it. Further, you only pay a 0.25% fee for trading on PancakeSwap.
StableSwap
StableSwap is a feature that allows the trading of stable pairs with more efficiency and lower slippage. Designed for closely priced assets, its trading fee is lower than the normal AMM and there is almost no risk of impermanent loss.
Earning Opportunities
You can put your cryptocurrency into PancakeSwap's liquidity pools and earn CAKE by staking your LP tokens. There is a syrup pool where you can earn CAKE tokens by staking your existing CAKE for fixed or flexible terms.
Lottery
Yes, PancakeSwap runs crypto a crypto lottery. You can buy a ticket for only $5 and get a prize even if your ticket matches just the first number with the drawn number.
NFT Marketplace
Not just crypto, you can also explore thousands of art, music and other NFTs on PancakeSwap's NFT Marketplace.
Instant Trading
Apart from the wide range of products, one of the biggest reasons users like PancakeSwap is that they can immediately start trading without submitting their ID and then waiting for verification. Just connecting a BNB Chain-compatible wallet is enough.
User Control over Private Keys
PancakeSwap is a non-custodial exchange. This means that users have control over their private keys rather than a third-party custodian. The crypto assets are not transferred to the platform which means that they would be safe even if the exchange is hacked.
Democratic Governance
On PancakeSwap, it is the users who accept or reject proposals by voting on them. This has helped in the growth of a culture of community governance on PancakeSwap by letting users have a say in the platform's development.
How to Set Up Metamask for PancakeSwap
Since Metamask is an Ethereum wallet, it first needs to be configured to be compatible with the BNB Chain. Let us have a look at the steps involved in connecting MetaMask to PancakeSwap.
Step 1: Download the MetaMask wallet from its website and install it on your device. You need to add the extension to your browser if you're using a computer.
Step 2: Click on Create Wallet and enter a password and tick off the check box to agree with the Terms of Use.
Step 3: Verify your secret recovery phrase and then note it down. It is better to keep your recovery phrases on something that is not connected to the internet, like a notebook.
Step 4: Go to Settings on Metamask to add BNB Chain to its networks. Click on Networks and then on Add Network in the top-right corner.
Step 5: Add the details of the BNB Smart Chain. You can get them from the PancakeSwap or Binance website. After that, click on Save. You will be able to see the units denominated in BNB instead of ETH.
Step 6: Now, head over to the PancakeSwap website. Click on Connect Wallet in the top corner.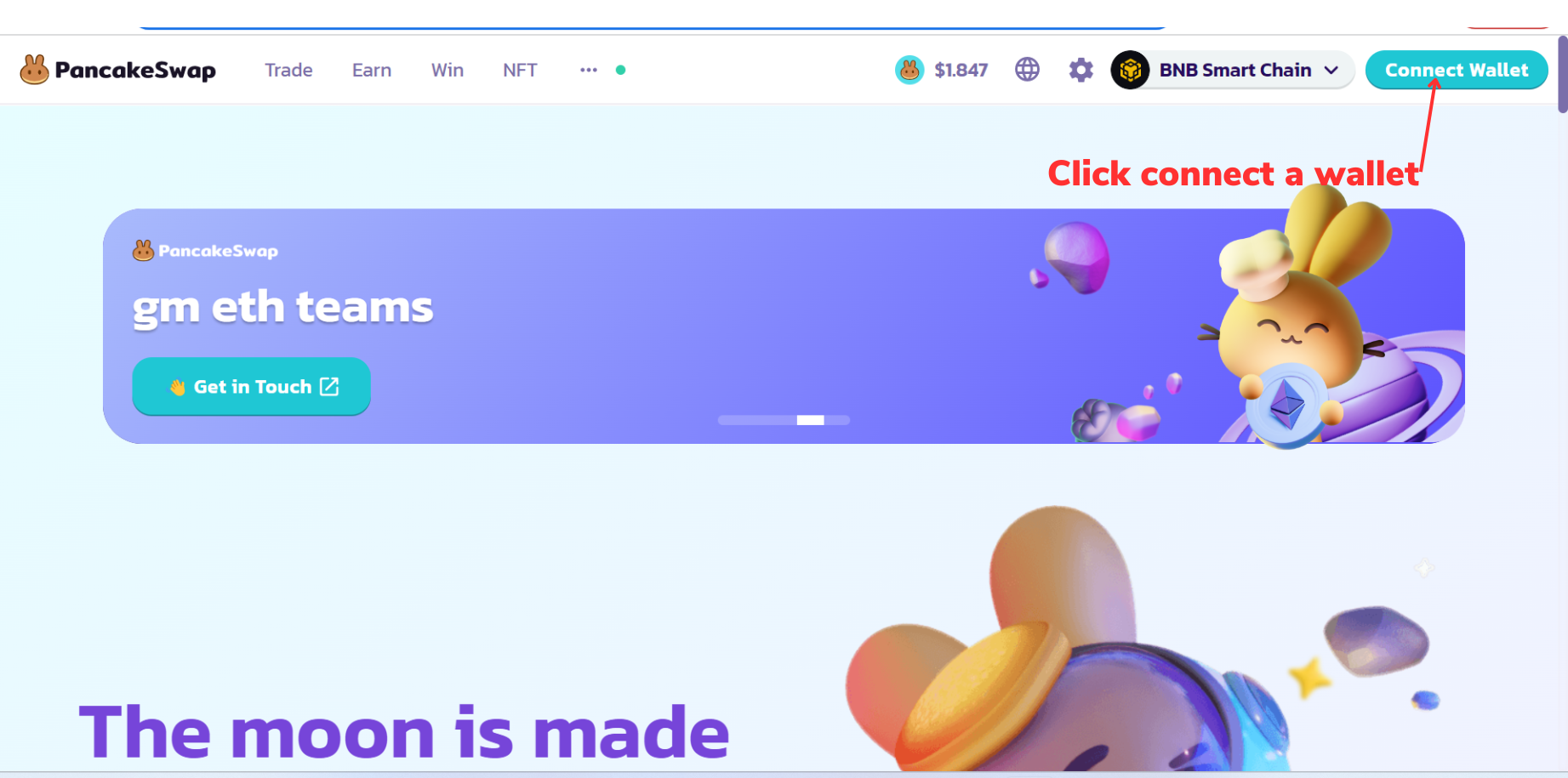 Step 7: A pop-up will come up with a list of wallets. Click on MetaMask to connect your wallet to PancakeSwap.
Step 8: If you're using a smartphone, open the MetaMask app and tap on the Burger Icon to access Settings. Next, choose Settings and then tap on Network.
Step 9: Tap on Add Network and enter the details of the BNB Smart Chain. You can get them either from the PancakeSwap website or the Binance website.
Step 10: After saving the network, tap on Browser from the Burger Menu. Search for PancakeSwap and tap on PancakeSwap to enter it. Finally, tap on Connect to link your MetaMask wallet to the PancakeSwap exchange.
How to Set Up Trust Wallet on PancakeSwap
Trust Wallet is a mobile-friendly crypto wallet. It was a mobile-only wallet for a long time until it launched a browser extension some time ago.
Step 1: Download the Trust Wallet app from the Google Play Store or the iOS App Store. Tap on Create a New Wallet, agree to the Terms of Usage and tap on Continue.
Step 2: Note down your recovery phrases and keep them in a safe place. Then tap on Continue.
Step 3: You need to verify your recovery phrases once after which you can tap Continue to set up your Trust Wallet.
Step 4: On the Trust Wallet main page, tap on Settings and then on Preferences. Navigate to DApp Browser and tap on the toggle button to enable the DApp Explorer.
Step 5: Now, tap on DApps on the Trust Wallet home screen. You can find PancakeSwap either by scrolling to the Popular section or searching for it in Exchanges.
Step 6: Tap on Connect after which PancakeSwap will open up. You may see a Connect button that you have to tap on and then select Trust Wallet to complete the process.
Step 7: If you're using iOS, the process is a bit different since the DApp Browser is not available on the iOS version of Trust Wallet. Here, you need to first go to the PancakeSwap website on your browser.
Step 8: Tap on Connect Wallet on the PancakeSwap website and then select WalletConnect. You will see a list of supported wallets out of which you have to select Trust Wallet.
Step 9: Tap on Open to launch Trust Wallet on your device. The WalletConnect screen will open on the app and you have to tap on Connect to complete the process.
How to Connect Binance Wallet to PancakeSwap
Binance Wallet is different from other browser extension wallets as you can use your Gmail account to create sign up for Binance Wallet.
Step 1: Install the Binance Wallet browser extension from the BNB Chain page. You have multiple options to sign up with including connecting a hardware wallet or using your Gmail account.
Step 2: If you choose to go with your Gmail account, you need to log in to your account to authenticate your identity.
Step 3: Create a strong password that will act as a second layer of protection in case you need to recover your private keys. Then click on Continue.
Step 4: Jot down your Binance Wallet seed phrases preferably with pen and paper and keep them in a safe place. If you want, you can also create your own seed phrases.
Step 5: Once you click on Continue, you will be asked to confirm your seed phrases. Enter the phrases and click on Continue and your Binance Wallet will be set up.
Step 6: Now, open the Binance Wallet and click on the network selector. Select BNB Smart Chain to proceed further.
Step 7: Visit the PancakeSwap website and click on Connect Wallet. Select Binance Chain Wallet from the list to connect your Binance Wallet to PancakeSwap.
PancakeSwap FAQs
Is PancakeSwap an Exchange?
Yes, PancakeSwap is a cryptocurrency exchange. Specifically a decentralized one. There is no central order book to match buyers and sellers but a protocol called Automated Market Maker that details how liquidity is to be created. Users don't need to register an account but just connect their crypto wallet for trading.
Is PancakeSwap Trustworthy?
Yes, PancakeSwap is a safe and legit exchange. It has been audited by the cyber security firm Certik and has received a positive rating.
Its vault has anti-flashloan protection and it also runs a Bug Bounty Program to detect vulnerabilities in its websites, apps and smart contracts.
Is PancakeSwap owned by Binance?
While PancakeSwap is built on Binance's BNB Chain, it is not owned or operated by the latter.
Binance Labs did make an undisclosed strategic investment in PancakeSwap in 2022 but it remains an exchange that is separate from Binance.
Conclusion
PancakeSwap is one of the most popular DeFi platforms out there. It has a wide range of products and some of them are truly innovative. It is perfect if you want to trade cryptocurrency without compromising your privacy. One of the reasons PancakeSwap is so well-known is because it is easy to set up and use. All you have to do is connect a cryptocurrency wallet and you are good to go.
You can choose from a number of wallets to use for PancakeSwap. You can use this guide to create a wallet from different devices including web browsers, iOS and Android devices and then link them to PancakeSwap.